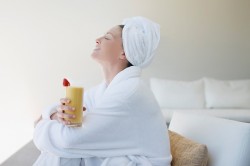 There are loads of rituals out there that you can do to relax and de-stress. But one of the easiest and most accessible for most people is the good old bath. There are hundreds of ways you can turn a bath into any kind of ritual that you desire. Today I'm going to talk about the basic bath ritual.


People have been having baths as rituals from as far back as ancient Egypt. The ancient Romans used them as a social forum, but nowadays you can find a bath ritual at most beauty salons in the form of a spa treatment. These can range in price from $50 to several hundred dollars.


But did you know you can create your own bath ritual at home! Even though I'm starting out with Relaxing Bath Rituals, you can change them to make them whatever you want. Examples include: abundance bath rituals, love bath rituals, health bath rituals, de-tox rituals and so on. Once you get the basics down it will be easy to have a bath ritual whenever you need it.

So what's so great about spa rituals?
1) They only require as much time as you are willing to give. If you've only got 30 minutes, you can still run a bath. You can do it any time of the day or night that you choose. There is no need to book in. So many people claim they don't have any "me time", but there's really no excuse not to book your own bath time. No matter what you need to be clean right? So why not make it a once-a-week-ritual.

2) You don't need to go anywhere. It's right there in your home. No need to drive to a fancy health retreat. No need to find a car space at the beautician. And even if you don't have a bath, you can still do a spa ritual with a shower. Sure it might not be the same as lying around in the tub, but these days you can buy all sorts of fancy soaps that release relaxing vapors as you shower.

3) It only costs the price of some soap. These days it's pretty hard to get any kind of fun experience for free. But baths are great for providing luxury time-outs. They are pretty cheap too. When you put a tiny bit of effort in, you can create an amazing bathing experience without spending a dime. Sure you can jazz it up with some candles and aromatherapy, but even if you don't have these, just putting some music on often does the trick.

Baths are by far one of the easiest and fun mini rituals you can do at home. So over this 3 part series, I'll be providing the best spa ritual ideas to get you started. In part 2, I'll talk about getting your bathroom ready and inviting, and what kind of tools you can use in your bath rituals. In part 3 I'll reveal what I think is the best bath ritual. So stay tuned for part 2!

Category: Bath Rituals
Manifesting coach and abundance creator. Sharing small things we can all do to attract more abundance and live extraordinary lives.