Preparing For Your Bath Ritual
This is one of the most fun parts about bath rituals.  Not only do you get to enjoy a fabulous spa treatment at home, but your bathroom gets a great spruce up as well.
The first step is to de-clutter your bathroom. It's supposed to be a sanctuary, so remove anything you haven't used in the last year. Now it's time to chuck out all of those half used shampoos, soaps and lotions. From a feng shui point of view, you'll be able to relax and unwind when there is less clutter in the room.
Once you've got the room looking nice and clutter free, it's time to spoil yourself and splurge on some new bathroom items.
Some staple spa items you might want to consider are:
1)    Visual – Pick out some lovely scented colored candles to light up your bathroom. Try and pick enough candles so that you can see without electric lights if you choose to.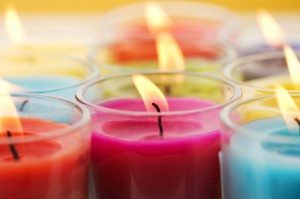 Another great idea is to have a couple of small vases (if you've got the space) with some freshly cut flowers in them. Remember color can be used to either invigorate the senses or to unwind them.
2)    Aroma – This is the wonderful part of having a bath ritual. There are so many scented bubble baths, aromatherapy oils, and delicious soaps out there that the choices are endless. Smell can have a wonderful effect on our mood so choose some smells according to the mood you'd like to achieve. For example if you want to feel invigorated and uplifted you might choose patchouli and cinnamon. For a more relaxing bath you could use ylang ylang and rosewood.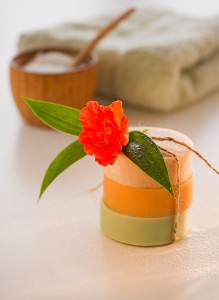 So why not get a couple of scented candles, or an aromatherapy pot ready with some essential oils. You could also even burn some relaxing incense.
3)    Sound – Sometimes the nicest thing about having a bath is the silence. But if you've got a house full of kids or some noisy neighbours, your bathroom might not be the quietest room in the house. You can easily overcome this by playing some soft ambient music in the background. Just make sure that you keep the sound equipment away from the water.
So now that you've got your bath ritual essentials sorted out there are a couple of other items you might want to consider. Sometimes it's nice just to sit in the bath for an hour and do absolutely nothing. Other times you might want to read a book. Or find some much need inspiration and have to take some notes. If this sounds like you, you might want to invest in a bath caddy. These are long trays that hook over the sides of your bath so you can rest items above the bath. It can save your books getting wet.
A nice quiet drink is always nice in the bath as well. It could be a glass of wine, or a long glass of iced lemon water.
Whatever you choose to put in your bathroom, your bath ritual is sure to be fabulously relaxing. Stay tuned for part 3 – the ritual!
Category: Bath Rituals
Manifesting coach and abundance creator. Sharing small things we can all do to attract more abundance and live extraordinary lives.